While grooming is great for any dog, puppies may be apprehensive about their first experience with pet grooming. Here's some tips to make them less so.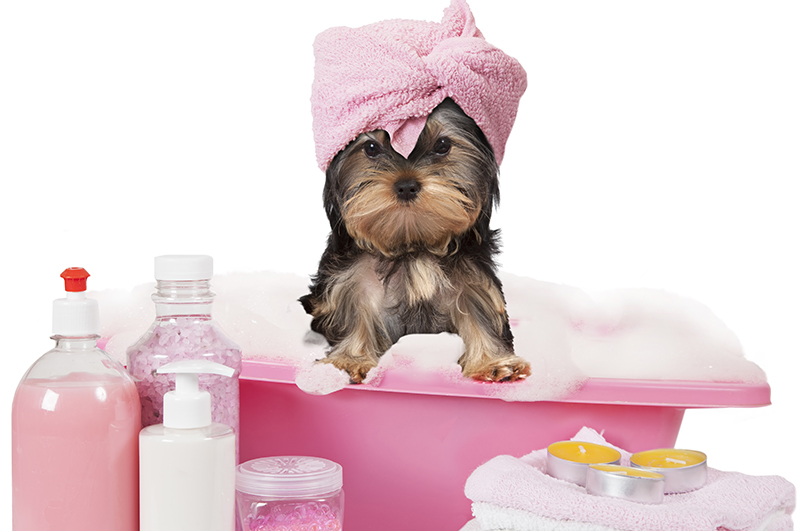 Travel with them frequently
Many dogs love to be outside, and many owners take them on frequent walks. But many, such as toy or smaller breeds, may have their walking or running confined to a yard or nearby streets. As a result, an actual event like going to another place in a car may be unfamiliar. They may become very excitable being in a car. This can present a problem when you take them to the groomer or the vet — they aren't used to being in a car, or being put in a car. The answer? Make traveling in a car familiar. Check out dog parks. Go see friends with them. Demystify the experience of being in a car and going somewhere.
Consult your vet
Just like your primary doctor with you, your vet is a primary caregiver for your dog. Since grooming is physical, it's a good idea to run the idea of grooming past your vet and see what they have to say. It isn't advisable, for example, to clip the toenails of some dog breeds. Some shampoos may irritate the skin or hair of other breeds. It's better to be safe than sorry, so be sure to ask.
Brush between grooming visits
It's a good idea to get your dog used to the idea of a brush from a groomer early on. But it's also a good idea to get them used to some of the tools groomers use. Brushing between grooming visits is a great way to demystify the experience even more. After all, if you are brushing your pet carefully and lovingly at home, it becomes a safe and comfortable experience.
Let us help you groom your new puppy! Contact us today.