Regret crating your pet but hate coming home to chaos? Doggie day care is the answer. "Is there a dog daycare site near me?" you ask. If you live in the League City or Houston Texas, areas, the answer is a definite yes! Pawsh Pets offers several convenient locations, You're sure to discover one near your home or workplace.  While Owners are Away – Pets Will Play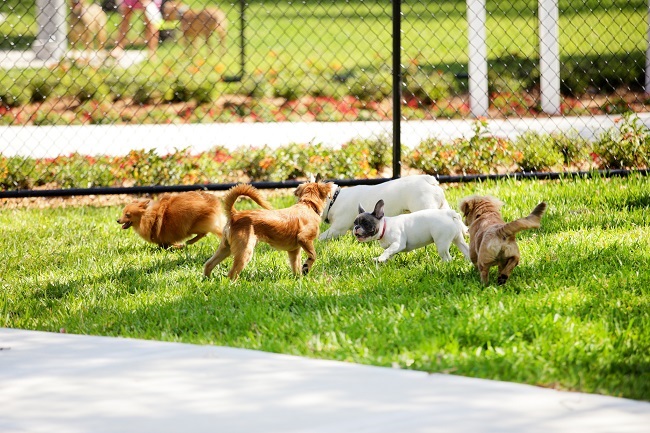 Simply drop off your pet after 7 am, and pick him or her up as late as 6:30 in the evening, 6 days a week, Monday through Saturday. You'll be assured of his or her safety and happiness while you're at your place of business.
Dogs, more than most pets, crave constant care and attention. Dog Daycare Services at Pawsh Doghouse include fun games like bubble chase, snack time, and group or intimate play.
Safety is a priority. Trained staff members evaluate each pet at arrival, regarding suitability for group play, then assign him or her to a set of companions similar in age, size, temperament, and activity level. If your pet needs personalized play, away from other dogs, we provide that as well.
All playtime is indoors, with everyone rotated outside for frequent potty breaks. Your pet won't have to wait all day for relief. Puppies, in particular require constant access to the outdoors in order to become properly housebroken. Let us do most of the work for you.
It's unhealthy for a pet of any age to be confined all day, without the ability to relieve himself when needed. Doggy day care saves your home from damage, and promotes the health of your pet.
At Pawsh Doghouse, we offer dog wash and full grooming services as well. With a grooming center on site, why not offer your pet a spa treatment?
See our website to find a price package that suits your pet's needs. The modest cost of each day's stay is a small price to pay for the pleasant evenings and improved relationship you'll enjoy with a pet whose exercise needs have been met during the day by our caring, trained staff.
Contact us online or at one of our locations for more information on how doggie daycare can improve life with your pet.